The mechanisms of a Learning Experience Platform
Consolidate all the knowledge sources you have in one place and redistribute them to your learners to provide them with personalised learning experiences
Find all your training sources in one place

+ 25
Available languages

+5 million
Completed capsules

+20
integrations
Endless design possibilities
In addition to providing a comprehensive authoring tool, Beedeez integrates your favourite design tools into a single platform. This allows you to easily share effective training modules with your learners!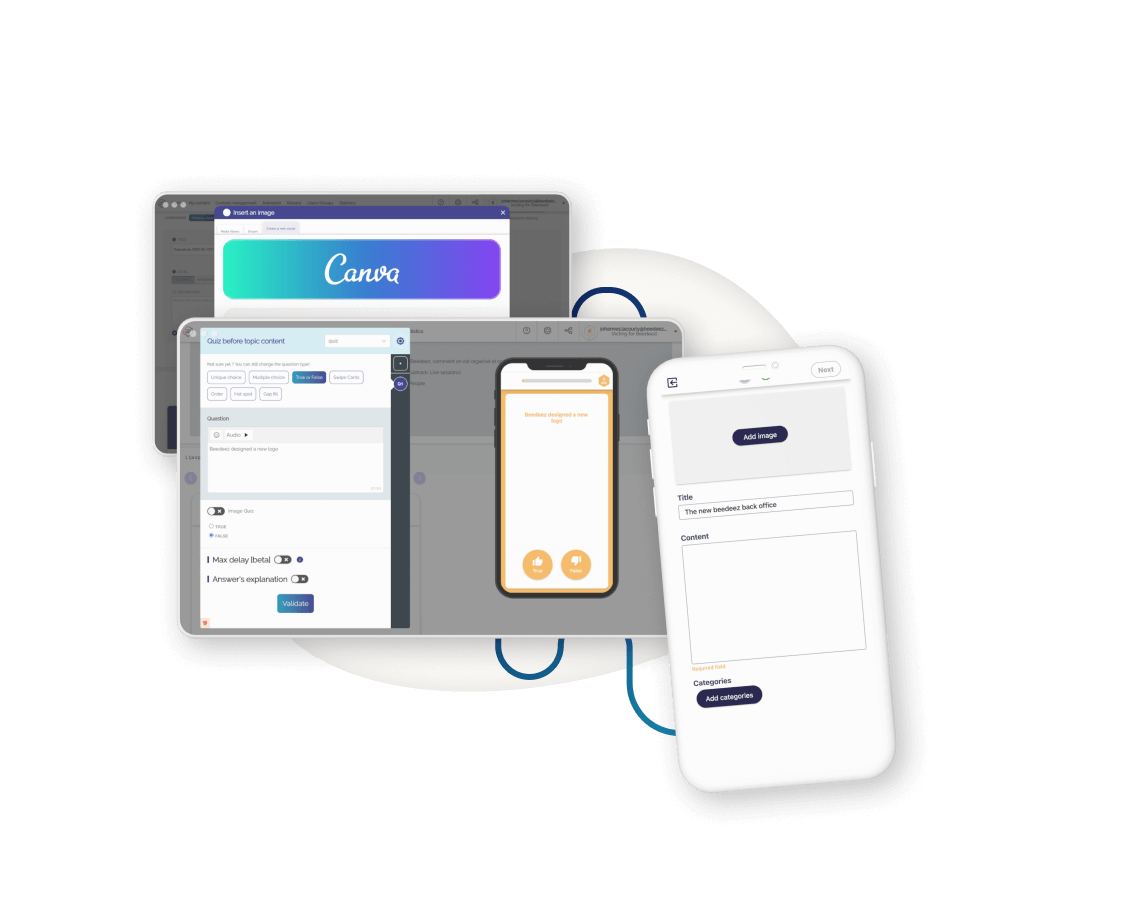 Authoring tool
Quickly create customised training content thanks to a simple and intuitive authoring tool.
Authoring tool

Deepl integration
Translate all your content into multiple languages in no time with our built-in DeepL integration.
Deepl integration

Canva integration
Don't limit your creativity, use Canva directly from Beedeez and create inspiring designs!
Canva integration

AWS Integration
Subtitle your videos in a few clicks with AWS integration and save precious time.
AWS Integration

Value expert learners
Utilise your learners' knowledge by allowing them to create content to share with their communities.
Value expert learners

Sharing widget
Have you seen an interesting article online? Share it directly with your communities in two clicks!
Sharing widget
A learner-centric solution
Reverse the roles and allow your learners to contribute to their own trainings through an interactive and social learning experience.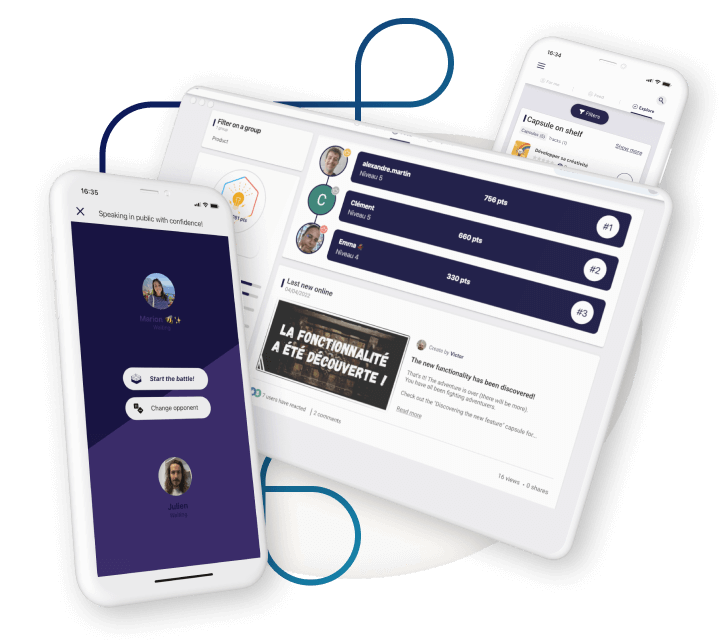 Accessible from anywhere
Allow learners to learn where and when they want by adjusting the training to their needs.
Accessible from anywhere

Easy and smooth navigation
The user experience is adapted to the specific device for smooth and efficient use.
Easy and smooth navigation

Tips
Your employees are both learners and trainers. Thanks to Tips, they can create and share content that they have designed.
Tips

Social Learning
Promote engagement and knowledge retention through dedicated social learning features.
Social Learning

Feedback and interactions
Comments, likes, or useful mentions: learners can react to the content and also interact with each other.
Feedback and interactions

Customisation
Learners can choose from a wide range of content designed for them and select the ones they wish to complete.
Customisation
Complete and integrated management
Manage all your employees and sessions as well as your entire training ecosystem thanks to the numerous LMS and HRIS integrations that Beedeez offers.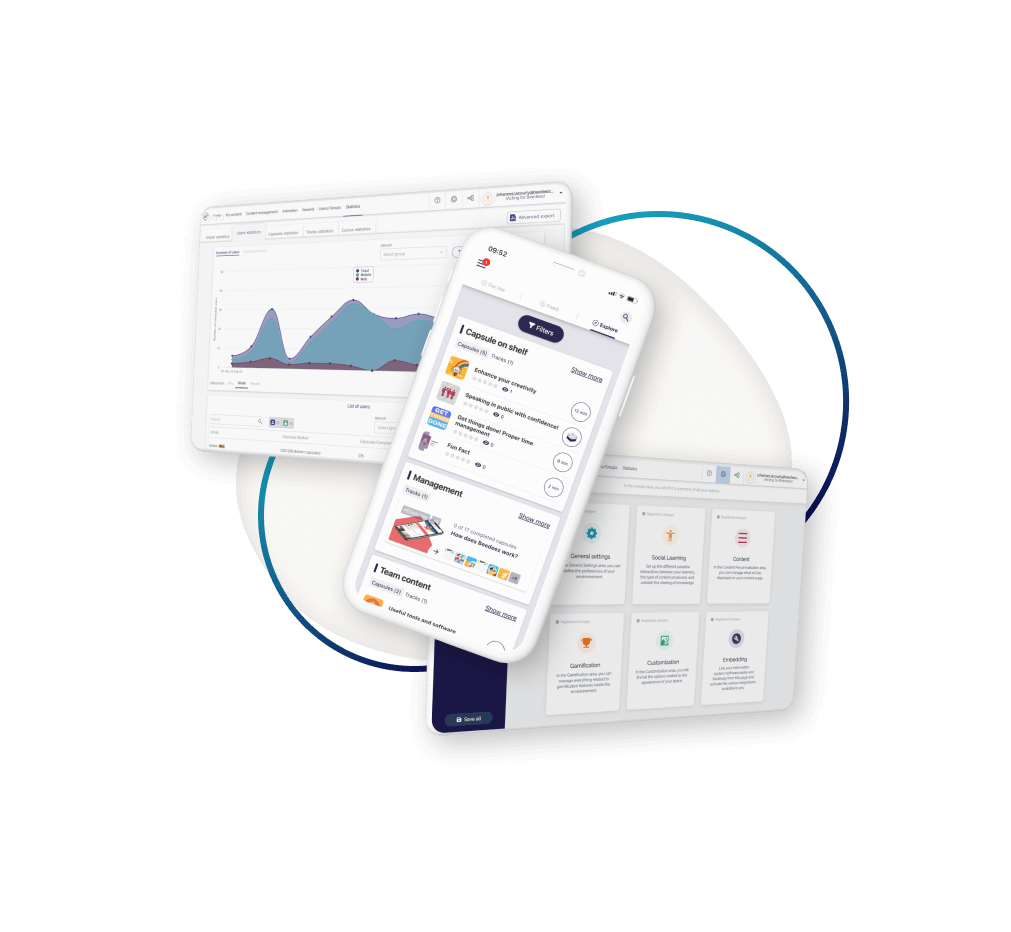 LMS Interconnection
Integrate Beedeez with your other LMS platforms for easy and automated management.
LMS Interconnection

HRIS integration
Optimise user import, set up connection options and enhance your employee profiles.
HRIS integration

User-friendly back-office
Manage content, users or statistics from a single comprehensive and intuitive tool.
User-friendly back-office

Customisation
Create an application that matches your image, both in its design and structure!
Customisation

Group moderating
Easily manage your groups, choose different authorisations for each and delete posts or comments.
Group moderating

Statistics and reporting
Benefit from an advanced control system with precise statistical tracking.
Statistics and reporting
Don't believe what you see?
Then it's time to try it out!